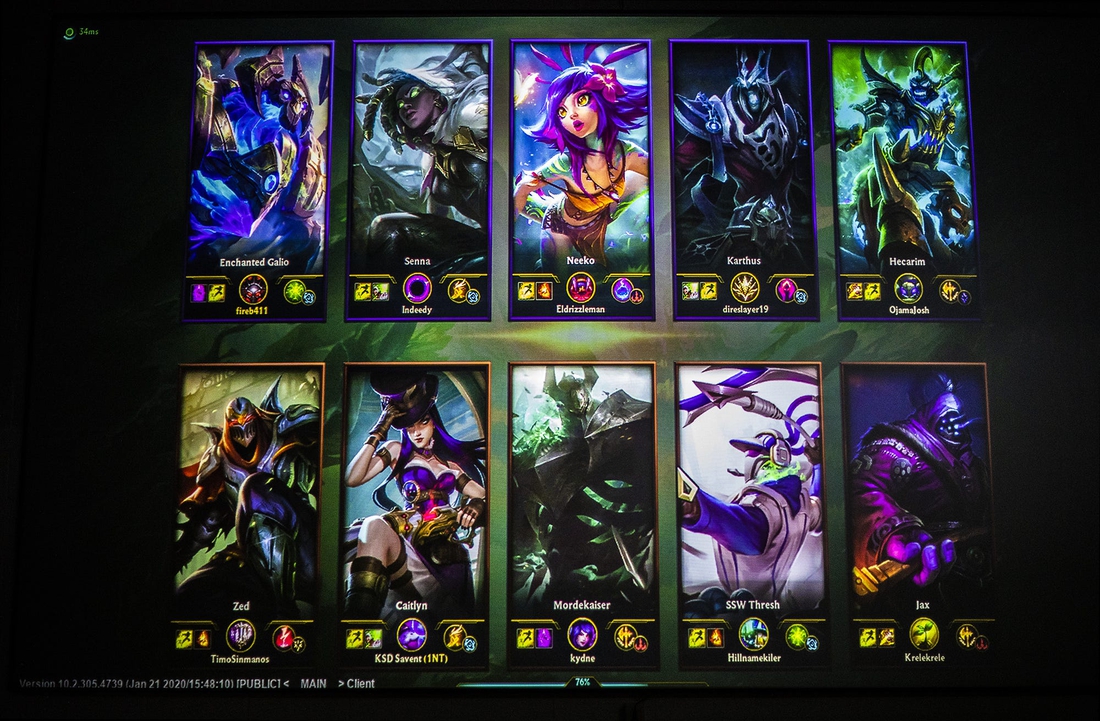 The first day of the Play-In Knockouts at the 2021 League of Legends World Championships saw two series go the distance on Friday as Beyond Gaming and PEACE picked up wins.
The first series saw the PCS' Beyond Gaming mount a thrilling comeback, completing a reverse sweep against Turkey's Galatasaray Esports in a 3-2 set. Both teams suffered from occasional lapses in concentration and sloppiness throughout the games, leading to a volatile and exciting matchup.
In Game 1, Galatasaray started with an early lead, but things quickly devolved in the mid-late game. Both teams traded control of the tempo and the gold lead later on, but Galatasaray outlasted Beyond Gaming, picking up a win in 42 minutes. In Game 2, Beyond Gaming dominated early on, building a gold lead worth more than 2,000 gold by 10 minutes in. As Beyond kept taking objectives, Galatasaray stayed in the game through finding kills, but it looked like it wouldn't be enough. Fortunately for GS, though, they stuck around long enough to take a late game Elder Dragon and pick up a 39-minute win.
Down 0-2, Beyond Gaming stepped up in a big way by going up tempo and playing around their star, bot lane carry Chiu "Doggo" Tzu-Chuan. Doggo was the primary damage dealer throughout the series for Beyond Gaming but really put his team on his back in Game 3 as Miss Fortune, hitting massive Bullet Time ultimates and dominating the bottom land on his way to an 8-2-9 KDA (Kills-Deaths-Assists) in a fast 26-minute win to put Beyond Gaming on the board.
Still down 1-2 in the series, Beyond turned up the intensity in Game 4, putting Doggo on Miss Fortune and picking a heavy teamfighting composition with split-pushing as a secondary win condition. While it was closer than Game 3, Beyond Gaming got ahead early and never let go, leading to a 31-minute win to take the series to Game 5.
Beyond Gaming had all kinds of momentum heading into Game 5, but was cut short when Galatasaray took an early gold lead. BYG kept things close, though, never letting the gold deficit grow to more than 5,500 gold. Then, Galatasaray opened the door for Beyond Gaming by attempting a risky Baron, which was stolen by BYG. After that, BYG pushed their waves in and picked up the win in 34 minutes. Beyond Gaming moves on to take on Korea's Hanwha Life Esports for a chance at qualifying for the Main Event Group Stage.
In the other series of the day, Oceanic representatives PEACE outlasted Brazil's RED Canids for a 3-2 series win. Both teams traded control of the series through fast games that were more-or-less over in the early game. The first match, the longest of the series, saw RED Canids take Game 1 in 32 minutes behind a big performance from bot laner Alexandre "TitaN" Lima dos Santos's Ezreal, who posted a KDA of 15-3-4. Then PEACE struck back with a fast 27-minute win in Game 2, evening the series at one apiece.
PEACE went on to take Game 3 in 26 minutes of action after RED Canids had a disastrous early game before themselves faltering in Game 4, feeding several kills to RED Canids' carries as the Brazilian representatives tied up the series in 24 minutes. With the series on the line, RED Canids support Gabriel "Jojo" Dzelme de Oliveira made a costly mistake in Game 5, giving away first blood before minions spawned. From there, PEACE snowballed their lead until RED Canids couldn't fight back, taking Game 5 in just 23 minutes — the fastest game of the day — to advance to a matchup against North America's Cloud9 for a chance of qualifying for the Main Event Group Stage.
In the Play-In portion of the 2021 League of Legends World Championship, 10 teams were drawn into groups of five, where they competed in a single round-robin of best-of-one matches. The top teams from each group advanced to the Main Event, while the second-to-fourth seeds advanced to Round 2, the Knockout Stage. In the Knockout Stage, the third- and fourth-placed teams from each group played each other, and the winners of those matches play the opposite group's second seed. The winners of these final matches advance to the Main Event. All matches in the Knockout Stage are best-of-five.
The 2021 League of Legends World Championships continue with the Play-In Knockout Stage on Saturday with two matches:
Beyond Gaming vs Hanwha Life Esports
Cloud9 vs PEACE
Play-In Group Stage Standings:
Group A
1. LNG Esports, 4-0
2. Hanwha Life Esports, 3-1
3. PEACE, 2-2
4. RED Canids, 1-3
5. Infinity Esports, 0-4
Group B
1. DetonatioN FocusMe, 3-1
2. Cloud9, 3-1
3. Galatasaray Esports, 2-2
4. Beyond Gaming, 1-3
5. Unicorns of Love, 1-3
–By Noah Waltzer, Field Level Media