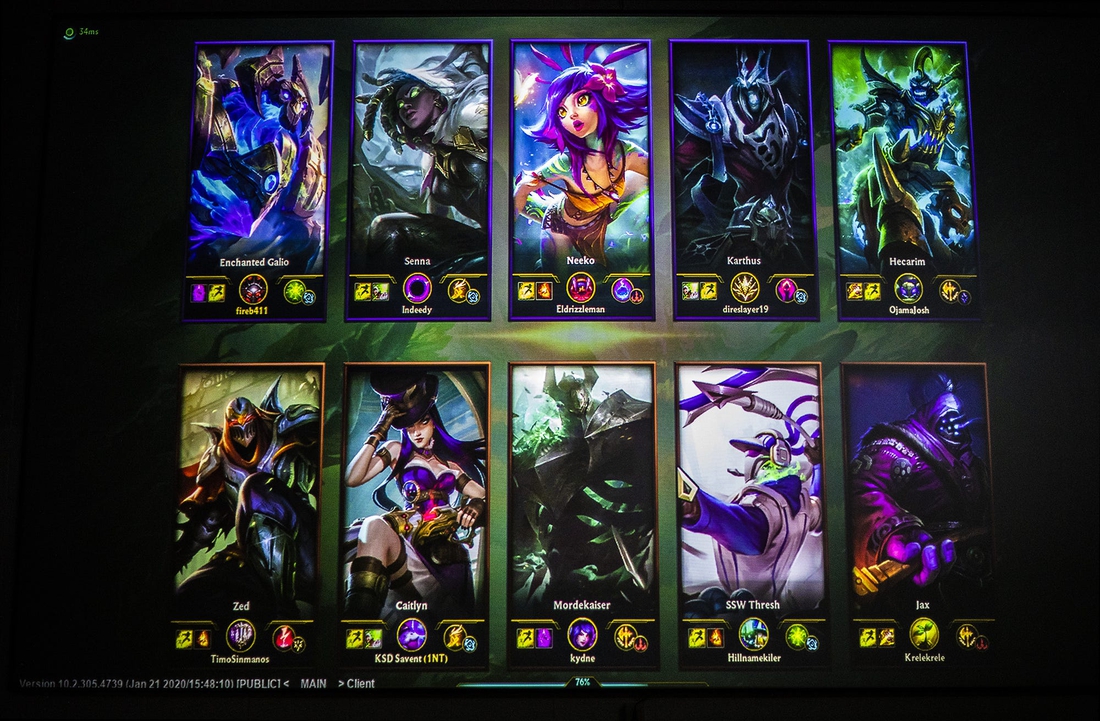 The final day of the Play-In Stage of the 2021 League of Legends World Championships saw a pair of quick sweeps as Cloud9 and Hanwha Life Esports qualified for the Main Event on Saturday.
The first match of the day saw Korea's Hanwha Life Esports demolish the VCS' Beyond Gaming in a series that was effectively over before it even started. Beyond Gaming's mid laner, Chien "Maoan" Mao-An, who played a major role in getting Beyond Gaming this far in the tournament, was found to have provided inside information to a friend for the purposes of wagering on their match against Galatasaray Gaming. As a result, Maoan was suspended from Worlds and will most likely be subject to additional penalties.
It's bad enough that Beyond Gaming had to use a substitute top laner in the middle lane in Hsieh "PK" Yu-Ting in the most important series of the year. Even worse, Beyond had to go against Hanwha Life's ace and one of the top mid laners in the world: Jeong "Chovy" Ji-hoon. Chovy dominated the mid lane throughout the series, snowballing his lead into leads for the rest of his team.
Game 1 saw Chovy get ahead as Fiora while jungler Kim "Willer" Jeong-hyeon dominated the map as Nidalee. Willer went on to post a 5-1-12 KDA (Kills-Deaths-Assists) for 94 percent kill participation as HLE cruised to a 29-minute win. Game 2 was even more of a stomp, with PK's Kennen getting abused from constant attacks from multiple angles and champions. Willer had another strong showing while BYG flailed around, leading to a Hanwha Life win in just 23 minutes. By the time Game 3 rolled around, BYG looked defeated, leading to a quiet Hanwha win in 25 minutes to secure the 3-0 sweep.
In the other series, North America's Cloud9 shined after struggling on the last day of the Group Stage, taking down Oceania's PEACE in a 3-0 sweep to advance to the Main Event Group Stage. Things started sloppy for Cloud9 as bot laner Jesper "Zven" Svenningsen got caught out several times as Lucian, but the North American representatives held onto their early gold lead and built on it, leading to a win in 33 minutes.
After that first game, Cloud9 looked ready to dominate. Jungler Robert "Blaber" Huang came alive in Game 2 on his signature Olaf, finding several early kills and making his presence felt across the map en route to a 11-2-8 KDA. As Blaber and the rest of Cloud9 found kills and objectives, they starved PEACE's later-game composition of resources, leading to a fast 21-minute win.
The pace picked up yet again in Game 3, in which every member of Cloud9 dominated their matchup. With PEACE behind in all facets of the game, there wasn't much to stop Cloud9 from doing whatever it wanted on the map, building an insurmountable lead by around the 14-minute mark. By the end of the game, Cloud9 had picked up 21 kills while only surrendering one of their own, leading to a 19-minute win as Cloud9 locked in their spot in the Main Event Group Stage.
In the 2021 Worlds Main Event, 16 teams are drawn into four groups based on seeding, where they compete in a double round-robin of best-of-one matches in the Group Stage. The top two teams from each group advance to the Knockout Stage, which is a single elimination bracket. Teams are randomly drawn so that 1st place teams place 2nd place teams, and that no two teams from the same group can be placed in the same half of the bracket. Matches in the Knockout Stage are best-of-fives.
2021 Worlds Main Event Groups:
Group A:
DWG KIA (LCK 1st)
FunPlus Phoenix (LPL 2nd)
Rogue (LEC 3rd)
Cloud9 (LCS 3rd)
Group B:
Edward Gaming (LPL 1st)
100 Thieves (LCS 1st)
T1 (LCK 3rd)
DetonatioN FocusMe (LJL 1st)
Group C:
PSG Talon (PCS 1st)
Fnatic (LEC 2nd)
Royal Never Give Up (LPL 3rd)
Hanwha Life Esports (LCK 4th)
Group D:
MAD Lions (LEC 1st)
Gen.G Esports (LCK 2nd)
Team Liquid (LCS 3rd)
LNG Esports (LPL 4th)
The Main Event starts on Monday with eight matches:
DWG Kia vs FunPlus Phoenix
Royal Never Give Up vs PSG Talon
Hanwha Life Esports vs Fnatic
LNG Esports vs Gen.G Esports
DetonatioN FocusMe vs T1
Edward Gaming vs 100 Thieves
Team Liquid vs MAD Lions
Cloud9 vs Rogue