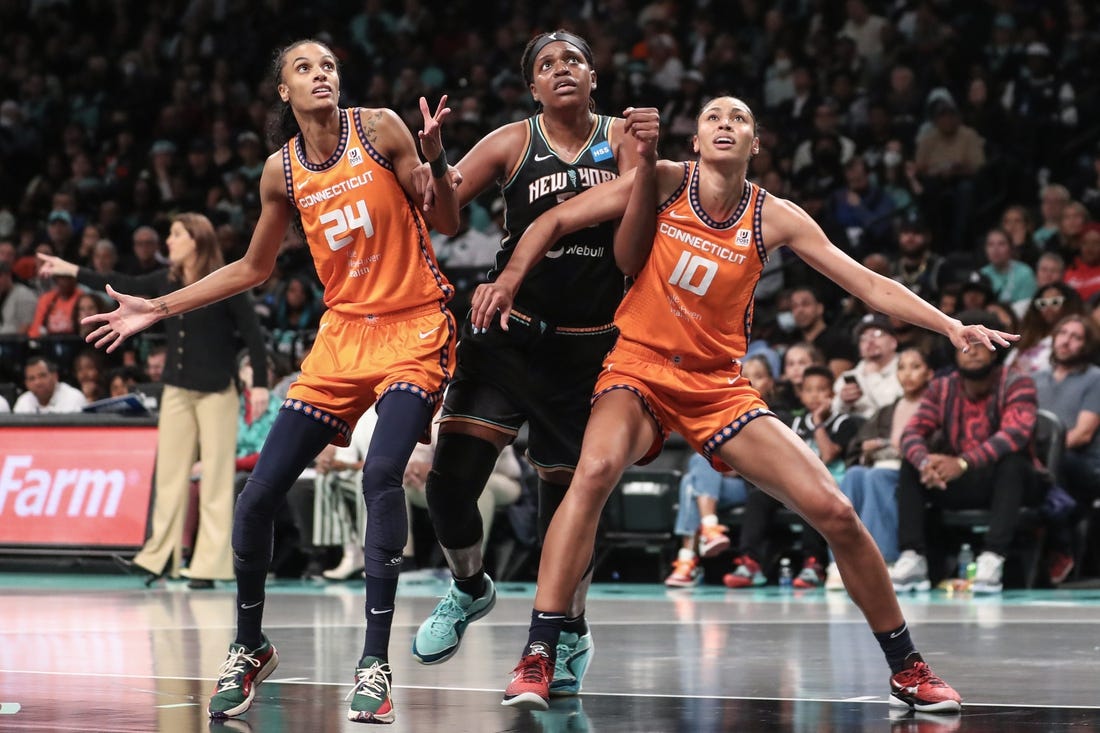 At least for one game, what happened in the regular season had no bearing on what happened in the playoffs.
After sweeping four regular-season matchups with the Connecticut Sun, the New York Liberty could not make shots or handle the Sun's defensive pressure. The result was Connecticut's 78-63 victory on Sunday and a 1-0 lead in the teams' best-of-five WNBA semifinal series.
Now the pressure is on New York to equalize the series Tuesday night at home or face a 2-0 deficit going on the road for Game 3 on Friday night. Liberty coach Sandy Brondello is confident in her team's ability to withstand adversity.
"Now our back is against the wall," she said. "We know we're better than that. It's a great challenge for us."
Brondello said it was New York's worst game of the year and it was hard to argue. The Liberty shot 33.8 percent from the field, went 8 of 27 (29.6 percent) on 3-pointers and were outrebounded 35-30 while committing 14 turnovers.
While Brondello and her players were unanimous in their belief that they played poorly, the uncharacteristic play also had something to do with the Sun. A team that's been to five straight semifinals knows what it takes to win at this time of the year.
With DeWanna Bonner scoring 20 points and Rebecca Allen adding a playoff career-high 18, Connecticut had the required firepower to take the series lead. The Sun were solid in all departments, including 20 assists while giving up just six points on 13 turnovers.
"Probably the most consistent 40 minutes we've played all year," said Connecticut coach Stephanie White. "They're such an offensive juggernaut that we just had to make things as difficult as possible and I felt like our team really took ownership of that.
"We were really proactive, our communication was at a high level and when we had our lulls, we responded."
Bonner said the playoffs are simply different from the regular season.
"When it's playoffs, it's 0-0," she said, referring to the season series. "We locked in."
–Field Level Media