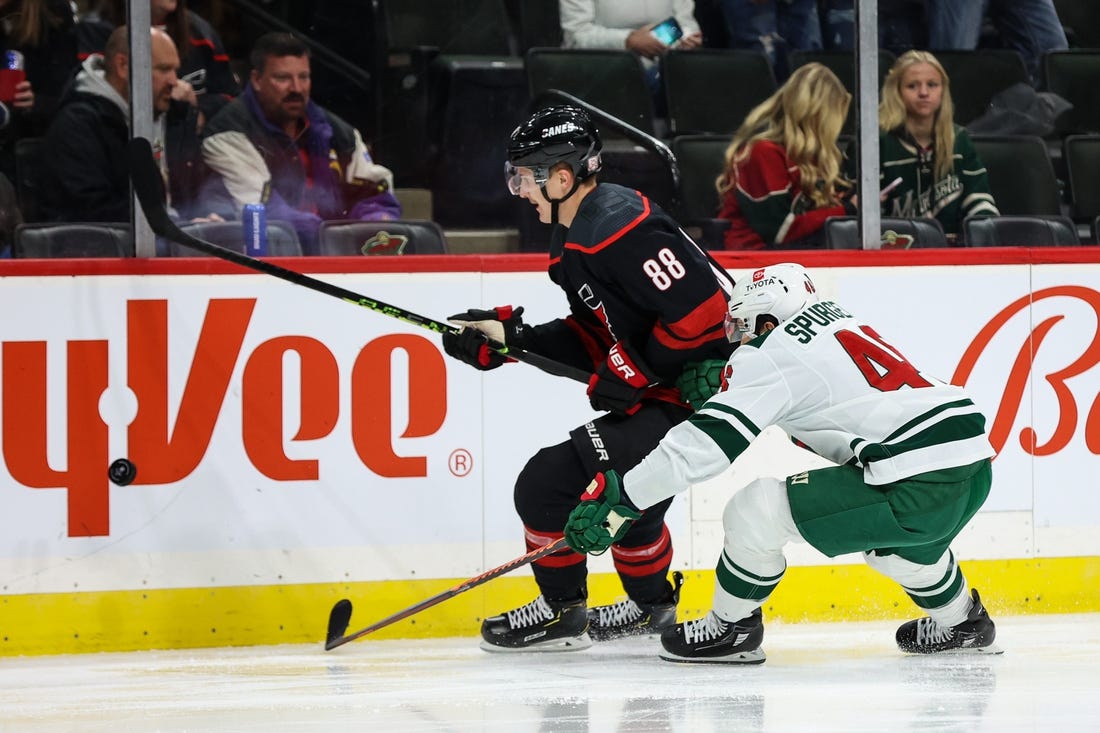 Having a few days off to reset could not have come at a better time for the Carolina Hurricanes.
Carolina, which has won just two of its last seven games, takes on the Minnesota Wild on Thursday night in Raleigh, N.C.
The Wild haven't had many recent glitches, winning three games in a row. That includes Tuesday night's 4-2 road victory against the Washington Capitals.
"Hopefully, we can carry this," Wild coach Dean Evason said. "Keep that momentum going into Carolina."
Carolina hasn't played since Sunday's 4-3 shootout loss to the Vancouver Canucks. That was the second shootout setback during the recent stretch, so the Hurricanes have been able to keep racking up points at a decent clip as they've remained atop the Metropolitan Division.
"We had spurts where we were really good and obviously we had spurts where we weren't," Hurricanes forward Jordan Martinook said.
At least for the short term, the Hurricanes appear set to forge ahead without rookie goalie Pyotr Kochetkov, who was assigned to Chicago of the American Hockey League earlier this week. He holds a 10-4-5 record and 2.33 goals-against average in 19 games with Carolina this season.
Kochetkov, 23, had been shakier in some of his recent outings, though he was named the NHL's Rookie of the Month for December.
That means the workload, as expected at the beginning of the season, is likely to fall mainly on Frederik Andersen, with Antti Raanta as the primary backup.
For Sunday's game, the Hurricanes were without captain Jordan Staal for the first time this season. He missed the game for what the team called personal reasons.
"You're missing your captain, your leader. It's hard," Martinook said. "Hopefully, he'll be back here soon. He's doing his thing. We're just with him with whatever he's got."
Regardless of lineup changes, Hurricanes coach Rod Brind'Amour said that doesn't mean there's a dip in focus.
"You've got a job to do," he said.
The Wild have allowed a total of four goals across the past three games. Goalie Filip Gustavsson has been solid in net.
"He's so calm back there, covering up rebounds," Minnesota defenseman Jared Spurgeon said.
Minnesota received three goals from defensemen on Tuesday. Spurgeon scored two of them.
"That's one thing we preach about this team, anybody can contribute and it's anyone's turn," Spurgeon said.
Wild scoring leader Kirill Kaprizov has 25 goals and has been productive in the past against the Hurricanes. But the key for the Wild is to find production from a variety of positions.
"We've talked about it all the time. We've talked about our four lines," Evason said. "For us to have our depth step up is nice."
Last week, the Hurricanes had a two-game stretch with seven of eight goals coming from defensemen, so scoring in this matchup could come from just about any source.
"You've got to have that depth scoring," Wild forward Ryan Reaves said.
Minnesota won a 2-1 overtime game versus Carolina on Nov. 19 at home.
After Thursday, Minnesota has two more games on the four-game road trip.
"It's definitely a hard trip with some good teams coming up," Reaves said.
–Field Level Media