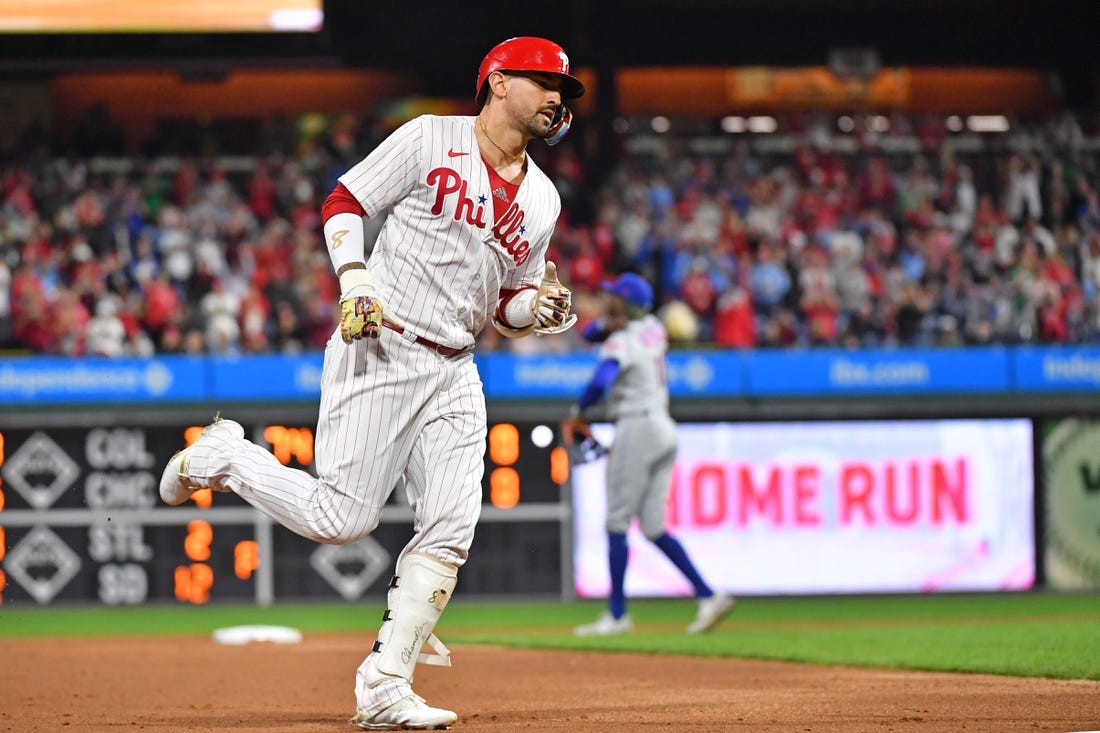 Nick Castellanos hit a two-run homer to cap a four-run fourth inning Sunday night for the host Philadelphia Phillies, who reduced their magic number for clinching a National League playoff spot to one by beating the New York Mets, 5-2.
The Phillies (87-69) completed a four-game sweep of the Mets. Philadelphia leads the Miami Marlins, the fourth-place team in the race for three NL wild-card spots, by six games with six left to play.
Philadelphia, the defending NL champions, lost the season series to the Marlins, 7-6, and thus needs to win one more game or have Miami lose one more game to clinch a playoff berth.
The Mets (71-85) fell to 10-12 this month. They will host the Marlins for three games this week before hosting the Phillies for three games to conclude the regular season.
J.T. Realmuto had a two-run single in the fourth for the Phillies, one batter before Castellanos, and Bryce Harper added an RBI single in the fifth. Realmuto was the lone player on either team with two hits.
Castellanos, Realmuto and Bryson Stott all had a stolen base.
Cristopher Sanchez (3-5) allowed two runs on three hits and one walk while striking out 10 — tying a career high — over seven innings. The left-hander, who retired the first 12 batters he faced Sunday, also whiffed 10 against the Atlanta Braves on Sept. 13.
Orion Kerkering, who began the season in Single-A, made his big-league debut by striking out two in a perfect eighth before Michael Lorenzen earned his first save with a 1-2-3 ninth.
Ronny Mauricio hit a two-run homer in the sixth for the Mets. It scored Tim Locastro, who reached on a single.
Rookie Jose Butto (1-3) took the loss after giving up four runs on four hits and two walks while striking out five over four innings.
–Field Level Media