Trump's "fantastic person" Kari Lake Says She Would Not Have Certified Biden's Victory Votes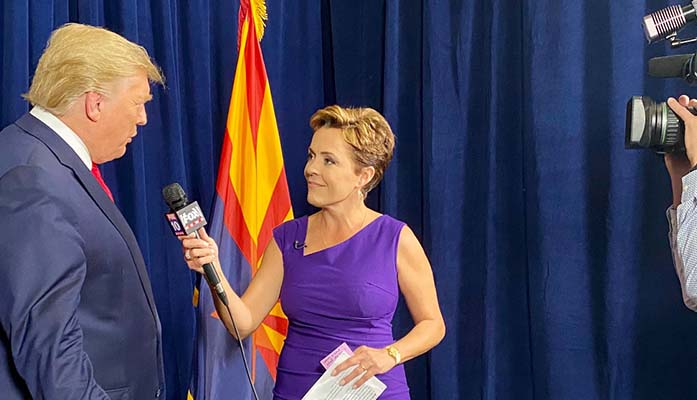 Republicans are now hopeful as Governor Doug Ducey will not be able to run for his third consecutive term in Arizona. Former Fox news anchor, Kari Lake, is now a Republican candidate running for the governor's post in Arizona. She was endorsed by Donald Trump, the former president. Lake, in a recent interview, told One America News (OAN) that she would never have certified Biden's Arizona win.
Kari Lake spoke to the right-wing network in Phoenix, stating that that Americans had seen things that had been wrong. She also said that she "would not have certified" the voting "right then" as she was convinced that there had been knowledge about some "serious irregularities" and some "problems with the election."
Trump endorsed Lake last week, calling her a "fantastic person". He also said that she would be the right one to resist the "Fake News Media." He stated that she was one who could be "strong on crime" on the Second Amendment issue, among others.
Lake, had earlier stated that Trump's carved head should be added also to Mount Rushmore. She was his ardent supporter from the beginning and among those who rode on false notions and repeatedly kept saying that there had been voting fraud in the November 2020 elections.
In last month's poll, there was a strong indication of Lake in a 25 percent leading position among the GOP gubernatorial candidates. Over half the people stated that they had not decided who they would vote for.
Whoever from the Republican Party wins in Arizona will have a face-off with Katie Hobbs, the favorite among the Democrats. Hobbs is currently the Secretary of State is ahead among all the candidates from her party.
The presidential elections swing state has been among those few who continued with the audit of the election results.  The auditors were called partisan and inexperienced, and the latest among them, Cyber Ninjas, upheld the Maricopa County 2020 elections, and also added 99 votes more for Biden's. Despite this, Trump and his allies keep repeating that the election was "stolen."
Image Credit Photo via Kari Lake Twitter
Check FREE Sports Scores and Bets https://www.RobinhoodSports.com a Division of RobinhoodNews.com
Trending News