Teenager arrested after refusing to wear mask on school grounds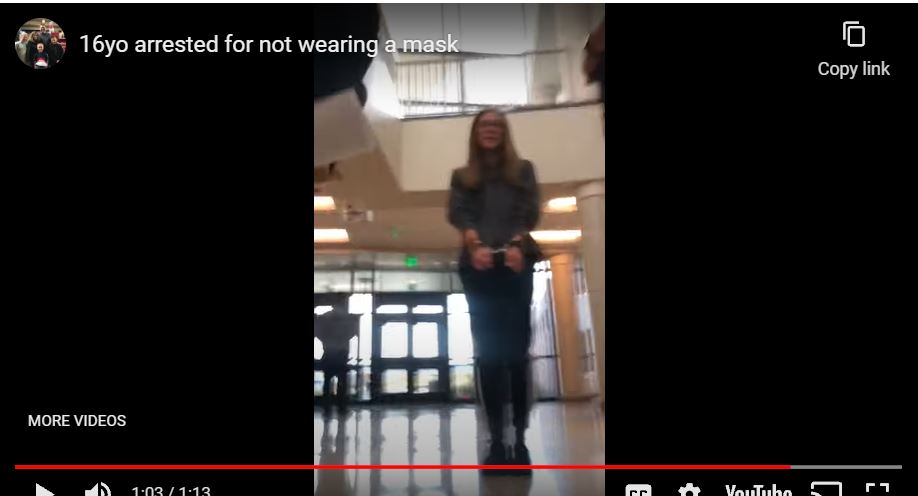 A 16-year-old girl in Wyoming was arrested Thursday at Laramie High School when she refused to wear a mask on school property.
The 16-year-old, Grace Smith told state Sen. Anthony Bouchard, R-Cheyenne in an interview posted online, that police placed her in handcuffs for trespassing after she was suspended for not following the school's mask mandate and refused to leave school grounds.
The grade A student, Grace Smith recorded the video below of herself getting handcuffed. Her father, Any Smith  later posted it on social media. The  police officers were not being offensive in any way.
The student reported that she faced three separate two-day suspensions over refusing to wear the mask on campus and also received $1000 in trespassing season Pines due to not leaving the campus when she was told to do so. Grace rebutted and said that her rights were violated as she should be on the school grounds to continue her education.
"I would never choose to do anything wrong and I never saw myself sitting in the back of a cop car, handcuffed," Smith said.
The school had approved the mask mandate for students in eighth. Students on buses were also required to wear masks. However, the mandate will expire on October 15th and the school board will be meeting again this week on Wednesday to revisit the plan.
"Right now, I should be playing sports and having fun," she said. "And instead I'm fighting for the rights that were supposed to be won hundreds of years ago."
Grace reports that she feels unwanted by the school system. She claims other students have cursed at her and will not associate with her at all. She feels even parents and some teachers have discriminated against her.
Check FREE Sports Scores and Bets https://www.RobinhoodSports.com a Division of RobinhoodNews.com
Trending News