Lady Gaga Poses with Luxe Outfit and Boa Made of $100 Bills on Flight to Sin City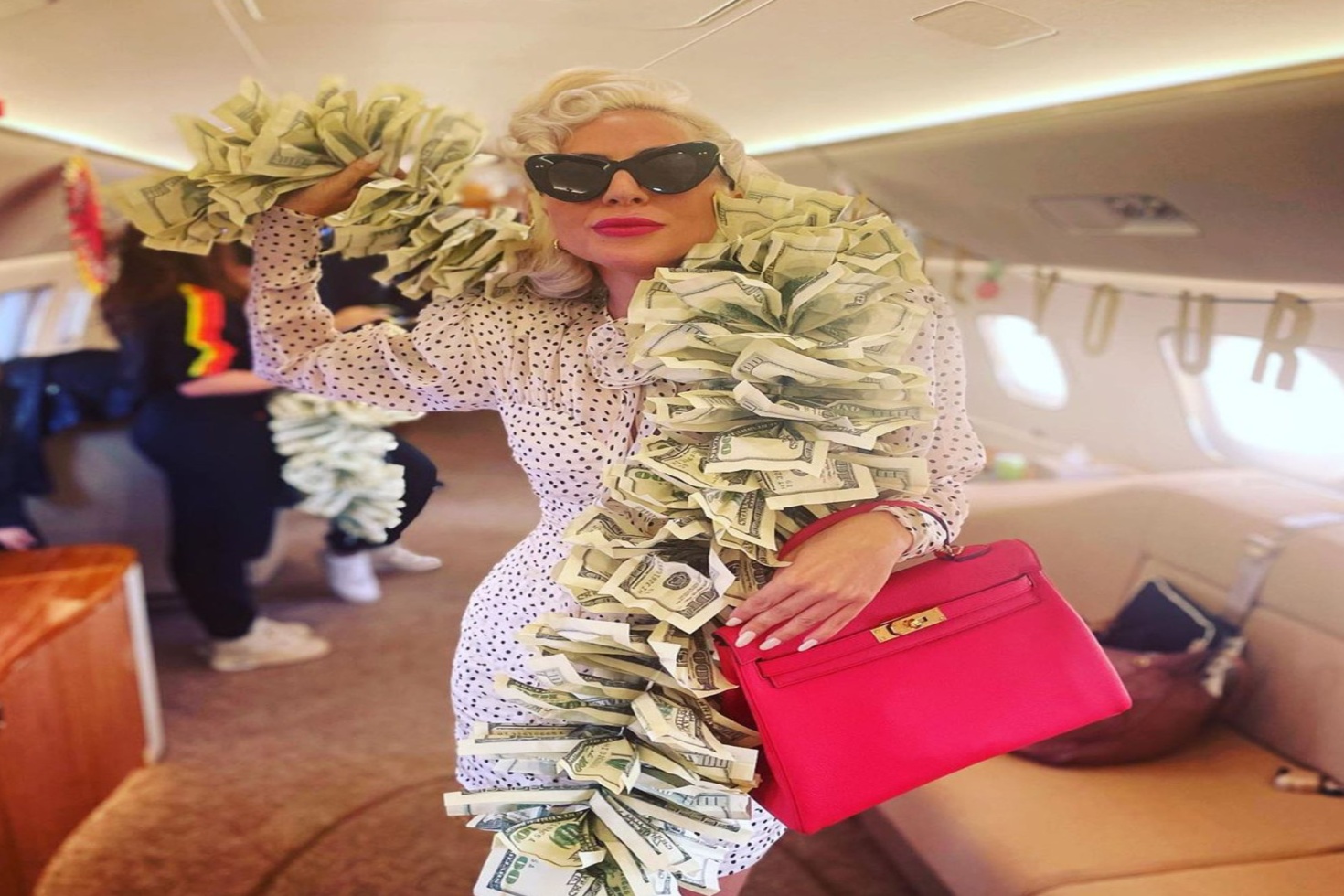 On Tuesday, Lady Gaga delighted her fans with a picture where she is seen with a boa made of $100 bills wrapped around her. Her glittery polka dotted dress from Magda Butrym paired with a Hermès Kelly purse, Valentino glasses, and the Benjamin Franklin-adorned boa completed her luxe look in the picture. The picture was taken on her private flight to Las Vegas where she currently resides.

In the picture posted on Instagram, she looks every inch "the A-list star" wearing the scarf-of-notes. And everybody seems to be talking of boa of Benjamins. The 'dripping with money' picture has not only raised a few eyebrows, but has also kicked up some mixed reactions from fans.

Some users of Twitter have said that Lady Gaga's outfit resembled 'an Amazon UK costume' for the pop superstar of "Money Honey" fame. The picture released then featured a model with an almost white blond wig that resembled Gaga's 2009's introduction to the world. The model is shielding her face with black sunglasses and a paper-money boa.
Dream dancing with you ✨ @itstonybennett #LoveForSale https://t.co/PhOwFEOdvJ pic.twitter.com/OeUlRJqM9k

— Lady Gaga (@ladygaga) October 13, 2021


Some people think that 'The Fame Monster' singer is so consumed by her money and wealth and is "totally tone deaf to the world around us."

Reports say that there is every possibility that the American singer's boa was made from fake notes.

The Oscar-winning star has some busy ahead. She will be promoting her duet album with Tony Bennett. Lady Gaga is also starring in Ridley Scott's film 'House Of Gucci', slated for release on November 26. She said that worked for six full months to get the right accent for the film, where she plays a murderess named Patrizia Reggiani, an Italian socialite who plots a murder of her ex-husband.

Lady Gaga, whose real name is Stefani Germanotta, is always seen in 'eye-wateringly expensive' clothes. Her outfits are reportedly 'guarded by bouncers and kept in safe'. A lasting image of her was one where she was on stage in a custom-made dress with over 53,000 Swarovski crystals. It is said that each piece of her wardrobe is created in collaboration with Haus of Gaga, her fashion house.

Photo Credit Instagram 
Check FREE Sports Scores and Bets https://www.RobinhoodSports.com a Division of RobinhoodNews.com
Trending News