Comedian Schumer and Actress Lawrence Support Abortion Justice, Participate in Women's March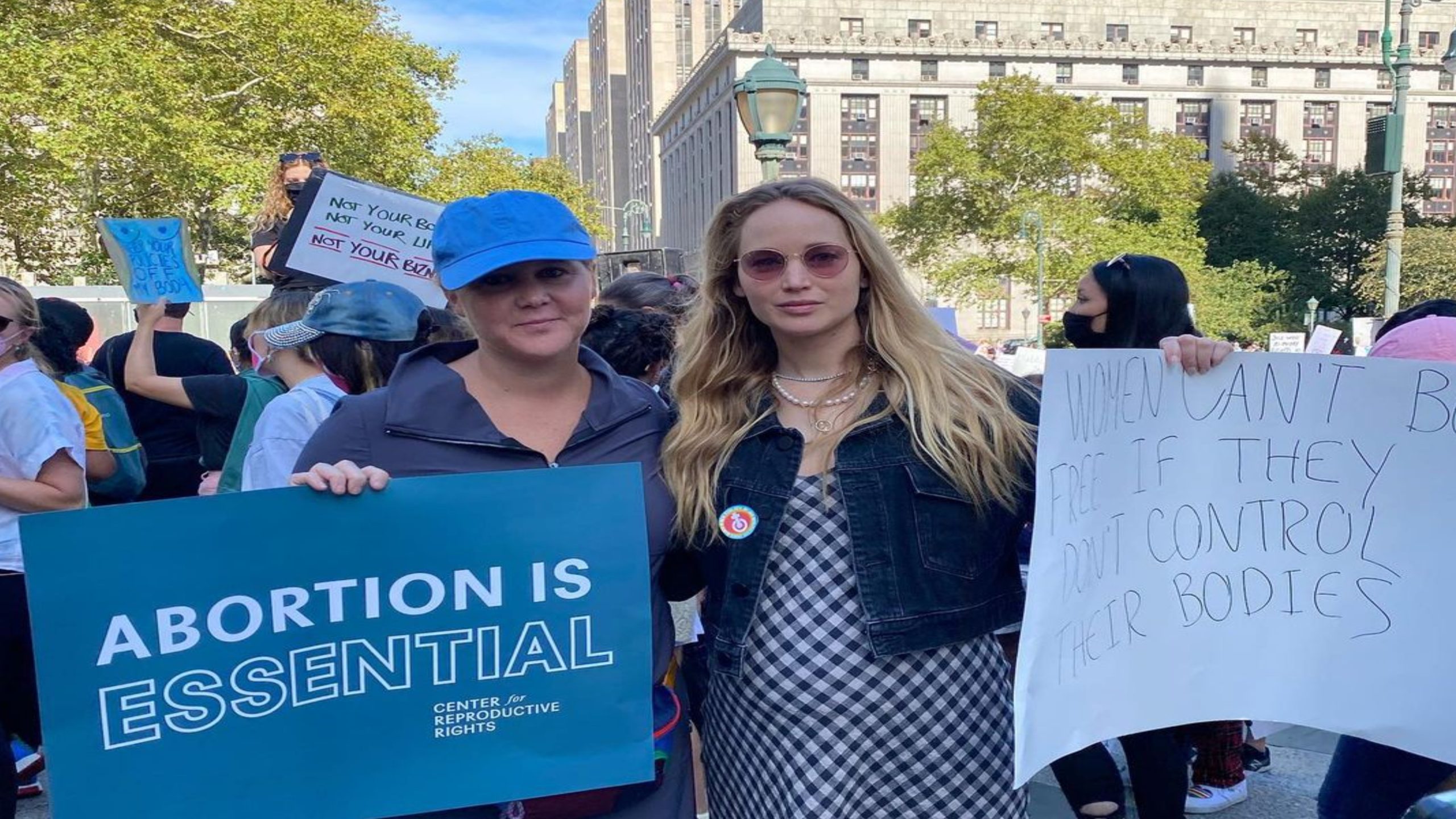 American actress Jennifer Lawrence and comedian and actress Amy Schumer have joined the fight for "abortion justice" with hundreds of others. They attended an event in support of abortion along with hundreds of others in Texas. The event, Rally for Abortion Justice, was held on Saturday, where there was a "Women's March and Planned Parenthood-supported rally" in which they participated holding placards and signs.
In a photo released by Schumer, Lawrence is seen in a checkered dress and her obvious pregnancy bump. There is a caption by Schumer under the photo that reads, "I don't have a uterus and she is pregnant but we out here @womensmarch @plannedparenthood #rallyforabortionjustice 🙌🏼🙌🏼🙌🏼,"
Ever since the Texas Abortion Bill, since early September, imposed a ban on most abortions in the state, there have been several abortion providers attempting to block the Texas law. However, they have been rejected at every turn.  The law prohibits abortions once foetal cardiac activity is detected. Such an activity is usually found at six weeks of pregnancy. This law has kicked some dust as most women do not even know that they are pregnant by that time.
The comedian had made a statement last month that she had had to remove both her uterus and her appendix due to health complications. She revealed that she had to undergo a surgery for endometriosis. There were 30 spots and the doctors decided to remove both her uterus and her appendix, which had also been affected.
A day before the rally, the star of 'I Feel Pretty' said, "Everyone deserves to have a safe and supported abortion, at any time and for any reason. This Saturday, we are coming together across the country to defend our rights."
The past 'Hunger Games' star Jennifer Lawrence is pregnant with her first child with Cooke Maroney, whom she married in October 2019.  The couple have been rather private until recently, when they were spotted together at some occasions.
Reports say that there are other states as well who have declared an abortion ban, but the judges have blocked them. Officials of Texas have allegedly argued that abortion providers will be sued even if the bill is put on temporary hold.
Law of no law, the threat of litigation looms over abortion providers at the moment. There have also been reports of women crossing the border for health care on these lines.  The Biden administration has advised the blocking of one of the most restrictive law.
Check FREE Sports Scores and Bets https://www.RobinhoodSports.com a Division of RobinhoodNews.com
Trending News