Clinical research study underway evaluating safety and effectiveness of COVID-19 vaccine in children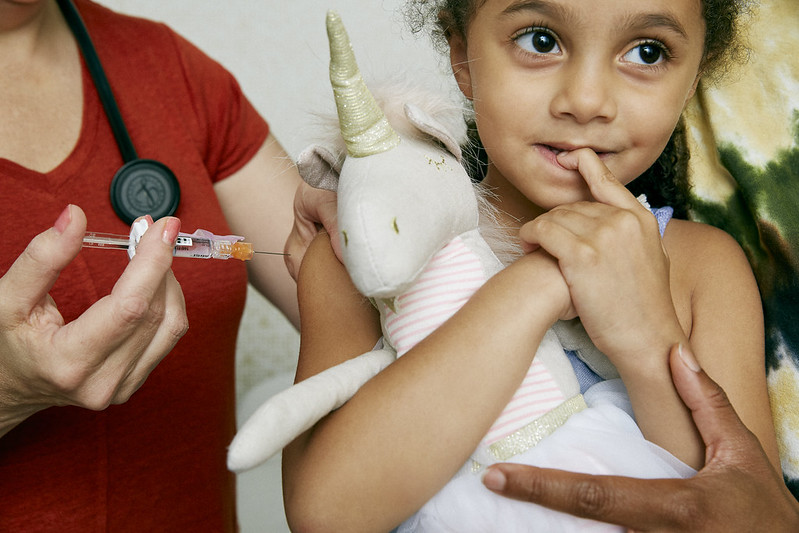 Researchers at the University of Missouri School of Medicine Department of Child Health and the Clinical Research Center are participating in a clinical research study evaluating the safety and effectiveness of the  vaccine  used to prevent COVID-19 in children.
The Moderna study will test the mRNA-1273 vaccine that may protect children from getting sick if they  are exposed  to someone  with COVID-19. Children aged 6 months to 12-years-oldwill be involved in the study.
Pediatric infectious disease specialist Christelle Ilboudo, MD said ,"A vaccine that prevents COVID-19 disease in children would be a key tool to help in our effort to end this pandemic,". "We are very pleased to be part of this effort. We've already filled our allocation of participants for the 6-year-old to 12-year-old cohort of the trial, but we're still looking for additional children in the 6-month-old to 6-year-old age range."
Participation in the KidCOVE Study will last approximately 14 months and includes phone calls, telemedicine visits, and up to seven visits to MU's Clinical Research Center. Participants will be given two injections 28 days apart and will have a chance to receive either the study vaccine or placebo. Participants must be in good health and must not have tested positive for COVID-19 or been in contact with anyone diagnosed with COVID-19 within 2 weeks prior to vaccine administration. Source: University of Missouri School of Medicine Department of Child Health
If you would like more information on this study and eligibility, visit the study website at KidCOVEStudy.com, go to musomcrckidcove@missouri.edu or call (573) 882-4894.
Check FREE Sports Scores and Bets https://www.RobinhoodSports.com a Division of RobinhoodNews.com
Trending News